Tips for Choosing the Right Tile for Your Walls
Wall tiles are not just a practical choice for rooms prone to moisture, such as bathrooms and kitchens, but they are a beautiful feature that can be a focal point or a background element.
Whether you're remodeling your kitchen and need a new backsplash or you're touching up your bathroom and need a new shower wall, wall tiles add character and texture, while protecting the surface. Wall tile is water-resistant, often waterproof, easy to clean and worry-free.
But wall tiles don't have to be limited to just the backsplash or shower. You can use them on your kitchen island, around a fireplace, on your countertops, around a bar area, or in a mudroom. You could also use wall tiles as a design element and a focal wall in any room of your home.
Wall tiles are available in a large range of materials, colors, designs, styles, shapes, and sizes, so you can truly customize your room and create the look you want.
We, at in the Bay Area, can help you find the perfect wall tiles for you, no matter your project or your personal style. We carry a large selection of ceramic and stone tiles that you will love.
There are so many options for your walls, that choosing the right tile may seem overwhelming at first.
How to choose the right material for your wall tile
There is no single best wall tile for your home or a certain room. Each material comes with pros and cons. Since these tiles are for a vertical surface, you do not have to worry about them being slip resistant or holding up to high foot traffic. For the most part, you'll want to choose a tile made specifically for walls, but you can use some floor tiles on the wall as well.
You can choose from ceramic, porcelain, natural stone, or glass tiles for your wall.
Ceramic tile is available in glazed, which is waterproof, and unglazed, which is water-resistant. Ceramic tiles are available in a huge range of sizes, colors, and finishes and can be made to mimic the look of natural stone or even wood. So, it is a versatile choice. It is water, stain, heat, and scratch resistant and can easily stand up to the demands of being used as a backsplash or shower wall. Ceramic tile is also cost-efficient.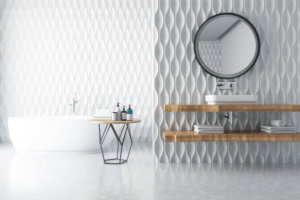 Porcelain tile is a great choice for walls that need an extra layer of protection, such as areas that see a lot of moisture or areas exposed to the elements more frequently. Porcelain is more durable and denser than ceramic so it can withstand more wear and tear. It is also available in a wide selection of colors, patterns, and finishes and can mimic the look of natural stone or wood.
Natural stone tile tends to be a bit pricier and more challenging to install than some other tile options. However, natural stone and marble create luxury looks that are gorgeous in bathrooms and kitchens thanks to their variations in colors and patterns. Natural stone will have to be resealed and resurfaced regularly. But natural stone remains a popular choice because of its beauty and because it increases the value of your home.
Glass tile is typically ideal for more contemporary homes. You most often see glass tile used in mosaic tiles, but they are still available in a larger option. Glass is a modern, eye-catching choice, popular because of its trendiness. It is also a low-maintenance, easy to clean wall surface.
How to choose the right shape and size of wall tile
Wall tile comes in a large variety of shapes and sizes, and you can even mix and match to create a truly unique look.
The shape of tile can range from plank tiles, which are popular for wood-look tile, to square tiles and even large-format tiles, to mosaic. You can also get geometric shapes, such as hexagons or diamond-shaped, or you can choose something highly decorative such as fish scale or arabesques for more ornate areas.
Wall tile is available in sizes ranging from one-inch mosaic tile to large seamless tile. Tiles are available in several widths and heights. Typically, larger tiles are better for areas where you want easier care. Larger tiles mean less grout to keep clean, so they're good options for your backsplashes and showers. Meanwhile, small, decorative mosaic tiles, which often come in strips, are best for areas where you want an accent or a focal wall. It's typically best to choose small tile for a small space and large tile for a larger space, but there are always exceptions.
Subway tile, which comes in a variety of sizes, also remains a popular choice because they are a classic and versatile choice. The classic subway tile installation is staggered horizontally. But they can even be installed vertically, in a herringbone pattern, or a geometric pattern for a more personalized touch.
No matter your personal style or your lifestyle needs, tile is a great choice for your home. Wall tiles provide you with a low-maintenance, easy to clean, water-resistant, or waterproof, surface. Wall tiles are perfect for rooms with moisture, such as kitchens and bathrooms, but can be used anywhere you want to make a statement or create an accent in your home. Wall tiles can be highly decorative and patterned or can be a neutral background element.
We, at can help you find the perfect wall tile for you and each of your projects. Contact us or visit one of our nine convenient locations in the Bay Area to begin your next tile project, today!