Splish Splash Without Worry with Waterproof Flooring
Not much can damage your flooring faster than water.
Your floors shouldn't have to suffer if you have a kid who likes to play pirate while taking a bath, if your loved ones aren't the best at remembering to wipe their feet before traipsing into the house, or if there is a home emergency, such as a leak.
So, it's important to invest in waterproof flooring that will last, especially in those rooms that are more prone to moisture, such as your kitchen, bathroom, laundry room, mudroom, and your basement. Plus, waterproof flooring is low maintenance and incredibly resilient when it comes to kids and pets, as well, making it a great choice for busy families.
The Floor Store carries a collection of waterproof flooring, and we can help you choose the one that's best for you. Waterproof flooring is versatile, and available in a wide array of colors, styles, patterns, and designs that will match your personal style.
There are several benefits to upgrading your rooms to waterproof flooring.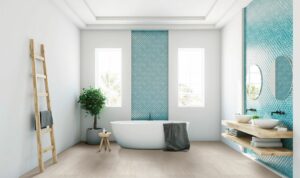 Natural Beauty, Extreme Durability
Waterproof solid core hardwood floors bring the beauty of natural wood or ceramic into your home, as they are made to replicate the look of high-end flooring. They come in a variety of styles and designs, as well as hues, so you are sure to find one that will look perfect in any room. Thanks to the latest innovations of engineered flooring products, these waterproof floors provide you exceptional performance. They are 100% waterproof, meaning they will not warp or swell, no matter how much water they're exposed to. They are also scratch-resistant and can stand up to the demands of a busy household. Their extreme durability makes them kid-friendly and pet-friendly flooring options. These floors are so fashionable, you won't have to sacrifice your style in your bathroom or kitchen in exchange for the durability of waterproof floors.
Easy to Maintain
The durability of waterproof flooring makes it easy to maintain, meaning it is ideal for a busy family and rooms with high traffic. You won't have to sacrifice time doing what you really want to be doing just to keep your floors looking pristine. Waterproof floors don't need a lot of attention. The best practice is to use door mats at entryways to cut down on the amount of dirt tracked into your home. Sweep or dry mop your floors regularly, but how often will depend on how much traffic the room has. You can use a wet mop on waterproof floors about once a week, too, but you should still wring out the mop first. Wipe up any spills as they occur. You'll find caring for your waterproof flooring easy.
Easy Installation
We recommend all floors be installed by professionals. Our experts at The Floor Store have years of experience and will make sure your waterproof floors look beautiful and perfect from day one. Waterproof flooring can sometimes be installed over existing flooring, as well. Waterproof flooring can also be installed by the homeowner who enjoys DIY projects.
There are several reasons to choose waterproof flooring for your next home project, especially when it comes to rooms like the kitchen, bathroom, laundry room, mudroom, and your basement that are more prone to moisture. These floors aren't just functional though, they're fashionable. You'll love the beauty of waterproof floors, as well as its durability. Contact us at The Floor Store to begin your waterproof flooring project, soon!