How to Choose the Right Hardwood Floors for Your Home
Your floors can change the character and feel of your home. That's why it's important to invest in flooring you will love for many years, possibly even a lifetime.
Hardwood flooring has remained a popular choice for a long time because hardwood is timeless and brings a natural, gorgeous element into your home. Hardwood goes with any style whether you're wanting traditional, contemporary, rustic, elegant, industrial, transitional, or more.
Hardwood is a great investment for many homes because it can last a lifetime with the right care and maintenance. Plus, it increases the value of your home.
But with so many hardwood options currently available, how do you know which one will look right and hold up the best in your home?
We at The Floor Store can help you choose the right species, color, texture, and width that balances your personal aesthetic with your lifestyle needs.
Hardwood species
The species you choose will depend on the style you want and your lifestyle. Different species have different characteristics, textures, and hues that will define your interior design. But they also have different hardness levels. The hardness of your wood will determine its durability and ability to stand up to regular wear and tear and messes in your home. So, if you have a home with kids or pets, you'll probably want a harder species, such as oak, maple, or hickory. Otherwise, you can choose a softer hardwood species, such as cherry, black walnut, or pine.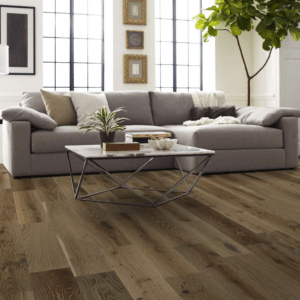 Hardwood colors
Even though hardwood is timeless, it goes through trends as well. Currently the trend is cycling away from greys and griege back to more natural wood browns. But ultimately the color of hardwood you choose depends on your personal style. Hardwood is versatile ranging from dark hues to light so that you will be able to find a floor that matches your overall aesthetic. Darker hues can create a more traditional look while lighter tones are typically more modern.
Lighter colors are also best in small spaces because it can make your room look larger. Another good rule of thumb is to look at other elements in your home and match your hardwood to those. So, if you have oak cabinets, you likely want a complementary color of oak flooring.
Hardwood texture
There are four main options when it comes to choosing a hardwood texture: smooth, hand-scraped, wire-brushed, and distressed. Smooth wood is ideal for a sleek, modern room, but it is less forgiving when it comes to dents. A hand-scraped wood floor is a great choice for homes with children or pets or other active families because it already has a textural element that helps hide everyday wear and tear. Wire-brushed flooring is elegant and works beautifully with a transitional interior design style because it blends modern and traditional elements well. Both scraped and brushed flooring already have texture, so they are perfect in high-traffic rooms where scuffs are more likely to happen. Distressed wood floors have a lot of character and work best with vintage or industrial design styles because all of the wood's character is visible.
Hardwood width
Years ago, hardwood planks came in widths of about two to three inches, but now there are a variety of widths available to choose from. What you choose should factor in the size of your room, the overall look you want to achieve, durability, and cost. The wider the board the more your hardwood floors will cost, and the less stable it becomes. Wider boards give you a more contemporary look, while narrower boards give you a more traditional aesthetic. Your board width will also depend on your installation pattern. While most boards are installed in a straight line, there are alternatives such as herringbone and chevron. You can also mix and match widths for a more customized look.
You will also need to decide whether you want finished or unfinished flooring. Then choose solid wood, engineered flooring, or longstrip flooring. Consult our Hardwood Flooring Basics guide or our Hardwood Flooring Questions for more information about those options.
No matter your style or your lifestyle, The Floor Store is the Bay Area's most trusted source for hardwood flooring. Hardwood comes in a large variety of species, colors, textures, and widths so you can customize a look that is truly yours. Contact us to begin your hardwood floor project, today!