Trend Turned Classic: Wood Look Tile Flooring
Trend Turned Classic: Wood Look Tile Flooring
With people spending more time in their homes in the last couple of years, flooring needs have shifted. People are looking for a flooring aesthetic they love that is highly durable to account for the extra foot-traffic.
One trend that seems to be here to stay for many years is wood look tile flooring. Wood look tile flooring gives you the natural beauty of hardwood flooring, but with the durability and ease of maintenance of tile. Who doesn't love the beauty of hardwood? But it is not an ideal choice for every room or for everyone's lifestyle. Wood look tile flooring has become a perfect alternative to give you the dependability of stone flooring and the timelessness look of wood.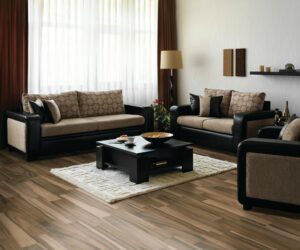 The Floor Store carries several options of wood look tile flooring you'll love. Here are some benefits of this new classic:
The Look
It's hard to beat the unique grain that occurs authentically in wood flooring. But with new technology, wood look tile flooring mimics the realness of hardwood with incredible accuracy giving your room warmth and a sense of coziness that makes it feel like home. Choose from traditional oak, the richness of cherry, the rustic look of driftwood, or the chic, modern feel of a light-colored floor. Whatever your style, there is a wood look tile flooring option perfect for you.
The Durability
Though hardwood flooring can last a lifetime with the proper care, tile stands up to moisture and scratches better than wood. Wood look tile flooring works in any room of the home, including bathrooms or kitchens, where hardwood flooring doesn't work. Wood look tile flooring is not damaged when it's exposed to moisture. Tile also does not easily scratch with the daily wear and tear of a family who is spending more time at home.
The Maintenance
Maintaining wood look tile flooring is much easier than maintaining hardwood or many other types of flooring. Sweep or use a vacuum designed for hard floors to remove debris from the floors as needed. Then you can wet mop these floors for a deeper clean as needed. This means wood look tile flooring is perfect for busy homes and homes with pets. For more information on care and maintenance of your tile floors, consult our guide.
No matter your style wood look tile flooring has options that are perfect for you. It comes in a variety of colors and designs, all made to give you the feel of hardwood floors, but with less maintenance and more durability. Wood look tile flooring is perfect for any lifestyle, especially an on-the-go family or families with pets. Tile tends to be colder and harder underfoot than some other flooring options. But its versatility and ability to stand up to moisture, make it a wonderful choice for any room in your home. Consider wood look tile flooring for an alternative to wood flooring to achieve that rustic, elegant, warm, traditional, or modern look in your home. Contact The Floor Store for information on wood look tile flooring or to shop our products.