Top Home Design Trends for 2023
A new year is the perfect time for a change, including your home.
If you're beginning to feel like your home needs a refresh, you may find your inspiration in design trends for 2023.
More time at home due to the pandemic over the last few years has influenced design trends. People are wanting to create a space that truly feels like an expression of themselves. They also want function, more privacy, and a cozier feel. This is influencing new styles.
Whether you want a complete home makeover or you just want to update a few elements, we at The Floor Store can help you find the perfect flooring, wall tile, countertop, or area rug to achieve the look you're after.
Minimalism is out, and maximalism is headed out. Both have dominated interior design in recent years. Here are some new design trends that may help inspire you as you look toward 2023.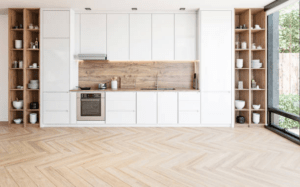 Traditional Interior Design
In 2023, interior design trends are shifting back toward a more traditional look, which features symmetry, layered patterns, bold colors, intricate details, and even, accents from around the world. Traditional style is often thought of as being formal, but by choosing comfortable and creative pieces, you can make it work in a more informal home, as well. Also, just because the traditional style is rooted in the past, it can be modern, and you can avoid making it look dated.
The traditional style aims to create a warm and welcoming feel to your home. That may include accent walls with bold colors, textures, patterns, or even murals, in entryways or in your living room. The traditional style allows you to display collections, antiques, second-hand finds, and more.
When it comes to choosing flooring for the traditional style, hardwood is the best option. Hardwood has been popular for centuries and helps evoke those 18th century and early 19th century vibes that make up the traditional style. You can also choose a laminate or luxury vinyl plank that can mimic the look and feel of natural hardwood. When it comes to choosing flooring colors, you'll want warm neutrals, such as nude, camel, or other shades of brown, as well as creams, to offset and balance the bold colors you typically find with a traditional design.
Since layered patterns work so well in this style, choose an area rug with a pattern to create a dynamic look.
Art Deco Design
Influenced by the 1920s style, the 2020s are bringing on a resurgence of the art deco style. Art deco was the go-to style throughout much of the early 20th century until it was replaced by the mid-century modern style in the 1950s. Art deco is expressed through bold, symmetrical patterns that are creative and artistic. Patterns feature geometric shapes, angles, and lines that are strong and bold, including chevron, curves, sunbursts, triangles, and zigzags.
Art deco isn't an all or nothing style. You can bring elements of art deco into other interior design styles for a look that is uniquely to your personal taste.
If you want hardwood flooring, try a chevron or parquet installation to reflect the patterns associated with art deco. Tile floors can be black and white checkered or a highly geometric pattern, such as a cube pattern. Similarly, when it comes to wall tile, you'll want highly geometric designs and patterns that reflect the artistic style. Rugs should feature bold geometric patterns that complement other elements in your room.
Nature-Inspired Looks
People are bringing outside in as often as possible, opting for natural items in their home. This ranges from live plants to furniture and décor made with natural materials, including wood, cotton, and metals. Nature creates a soothing feel and helps refresh a space. Plus, natural materials are eco-friendly, so this trend supports a sustainable lifestyle.
When it comes to flooring, this means natural wood, natural stone, or carpet or area rug made with natural fibers. Those textures add interest and depth to any room. Plus, these natural textures and elements complement the warm, rich, earth-inspired hues that are currently popular.
When it comes to your backsplash or shower wall, look for natural stone, which has unique characteristics and textures that are visually interesting. Similarly, look for countertops that utilize natural elements, such as marble or granite, for a sleek, sophisticated look that cannot be duplicated.
No matter your personal style, there is a design trend for 2023 that will work for you. And if you don't want to totally change your home, you can select elements from a style you like for a refresh. We at The Floor Store can help you find the perfect flooring, wall tile, countertops, and area rug for any style. Contact us or visit one of our nine convenient locations to get started on your next home project!