Refresh Your Outdoor Living Space with an Area Rug
It's that time of year where we're all beginning to spend more time outdoors, and that means it you may notice it's time to refresh your outdoor living space.
Porches, patios, and other outdoor spaces, such as kitchens, are for entertaining, socializing, and relaxing so you want a space that is inviting and welcoming. But you also want to choose décor that can hold up to being outdoors and exposed to weather and moisture.
We at The Floor Store carry outdoor rugs that will complement your outdoor living space and can hold up to the elements. Outdoor rugs are low-maintenance, and like indoor rugs, they pull together the colors and textures to add that perfect finishing touch to your space.
When you go to select an outdoor rug, there are a few things to keep in mind.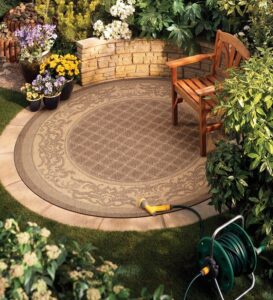 Express Yourself
Don't be afraid to really express your style with an outdoor living space, especially your rug. When you choose colors, patterns, and textures for your outdoor space, you can go bolder and be more daring than you may feel comfortable with indoors. Bright colors and patterns will stand out and create an inviting space you'll want to spend time in. You may stay clear of a bold red rug for the middle of your living room, but outside, it will provide a beautiful contrast to surrounding greenery. Add brightly colored stripes to your outdoor living space with one of the many colorful choices in Couristan's Cape Brockton collection. You can also play with patterns and bold designs featuring geometric shapes or even flowers or large leaves to emphasize being outdoors as seen in Couristan's Monaco Coastal Floral Collection.
Measure Your Space
Pull out the tape measure and make sure you have the exact dimensions you need for your space. Just like with indoor rugs, you want to think about where you want to place your rug. Will you place just the front of your furniture onto the rug to make your outdoor living space look bigger? Or will all your furniture fit on the rug, leaving at least 6 inches around the edges, to create a space that feels more intimate and cozier? Make sure you understand the size and shape you need for your unique outdoor living space. Our outdoor rugs are available in a variety of sizes, so you'll be sure to find one perfect for you.
Material Matters
Not just any rug should be used outdoors. When selecting your perfect outdoor rug, you should make sure it has an outdoor use rating. It's best to choose a rug that is mildew and mold resistant so that you don't have to worry about replacing it often, especially in a moist climate. There are several different materials used in outdoor rugs so look for one that is also resistant to fading and resistant to oils or other chemicals.
There are so many gorgeous choices of outdoor rugs, you'll be sure to find the perfect one for your style and budget. Shop The Floor Store for all your area rug needs, and be sure to contact us with any questions.