Incorporating Patterned Carpet in Your Home
Whether you're looking to completely remodel your home or just need a refresh, new carpet can provide you with extra warmth and style. While neutral solid colored carpet is a classic choice, patterned carpet is growing in popularity.
Whether you want wall-to-wall carpet or a new area rug, patterns are a way to add texture, depth, and style to your room. There are many options including large or small patterns, geometric shapes, chevron or stripes, or bold or muted colors so you can find an option to fit any style.
Consider Your Style
Remember to select not only the colors that complement your room's décor but a pattern that does as well. You can mix patterns in your room – and throughout your home – as long as they are varying shades of the same color palette and don't overpower each other. Subtle colors and subtle patterns such as Shaw's Foundations Vineyard Grove in Linen will add elegance to your space. Bold colors and patterns, such as Karastan's Chic Idea or Dazzling Variety work best in modern spaces.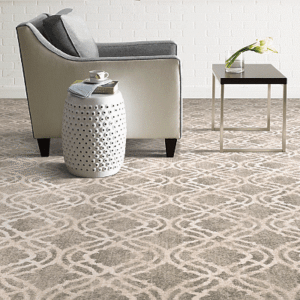 Consider Your Lifestyle
When choosing any flooring, taking your lifestyle into consideration is just as important as your style. You need to choose a flooring that can stand up to the amount of foot-traffic your room receives, as well as any possible messes that may come its way. Many patterned carpets are made to reduce and minimize footprints and marks from a vacuum and can disguise wear and tear. Some patterns that are created using loop carpet are not ideal for homes with pets or young children. But there are a large variety of patterned carpets perfect for homes with pets or children. We can help you determine which ones are pet-friendly or child-friendly, as well as which ones are most likely to stand up to high traffic rooms.
Consider Your Focal Point
Before designing a room or upgrading an element in the room, it's important to identify your focal point. Your flooring or rugs don't have to be a background element, but they can be, even with a pattern. Choose a more understated pattern so it does not draw the eye away from other elements in the room. Carpets and rugs can become the focal point of the room if you want to find one that showcases an intricate or bold design. To make this work, you'll need either solid-colored walls and furniture or walls and furniture with a more muted pattern. You can also layer a bold area rug over a more muted carpet to layer a look perfect for your room.
Patterned carpet can work with any style, from traditional to modern, rustic to chic, cozy to elegant. The options are limitless. You can use our room visualizer to get started from the comfort of your own home and contact us so we can help you choose the patterned carpet that's perfect for your home.