How to Choose the Right Countertop
We may still be enjoying all things pumpkin spice and the fun of fall, but it isn't too early to start getting your home ready for the holidays.
Before you begin hosting holiday get togethers, parties, and dinners, it is a great time to upgrade your countertops. You want to make sure your countertops are beautiful and durable enough to handle holiday meal prep.
But how do you know what countertop is best? Each option has pros and cons. You will want to ask yourself how you will use your countertops, how much time will you put into maintaining your countertops, and which materials and colors match your home's style.
The right countertop will balance your style, lifestyle, and budget. We, at The Floor Store, are the Bay Area's most trusted retailer for new kitchen and bathroom countertops, and we can help you find the perfect product.
When choosing a countertop, it's best to begin with finding which material will work best for your lifestyle and your budget. Then you can find the right look to match your aesthetic.
Granite Countertops
Granite is one of the most popular materials for countertops because it provides you a luxurious surface that can withstand a busy household. Granite is a natural stone countertop that even the sharpest knives won't scratch, that won't burn or crack when you place a hot pan on them, and that will not warp when they get wet. Since no two stones are exactly alike, granite varies in appearance and markings for a look that is truly unique. Color choices are endless for granite so you can customize your countertop to match your kitchen perfectly. Plus, granite is one of the more affordable high-end material choices.  Granite will need to be resealed about once every six to 12 months.
Marble Countertops
One of the most elegant countertop choices is marble. Marble is a natural stone that provides you with a timeless look that can stand up well to heat and provides you a great space for prepping food. However, marble is a softer stone than granite, so it can scratch or chip easier than some other materials. It also has to be resealed more frequently to reduce the risk of staining. Marble remains a popular choice for a high-end look because it is gorgeous, featuring unique, natural patterns and colors. With a little extra care, marble countertops can last you for many years while raising the value of your home.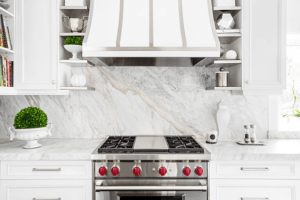 Quartz Composite Countertops
Also known as engineered stone, quartz composite is made by combining quarts with an epoxy or acrylic binder to create an incredibly hard surface. This provides you with a durable and stain-resistant workspace that can stand up to a high-traffic kitchen. Quartz composite countertops mimic the look of natural stone countertops but have a unique depth and clarity and are available in a wider selection of colors and patterns. Since quartz composite is not a porous surface, it does not require as much maintenance and is easier to clean than other surfaces.
Laminate Countertops
Laminate countertops are a great choice for any kitchen, but especially when you are on a budget or want to put your money toward other high-end furnishings. Today's laminate countertops are more durable and attractive than they once were, but they are still not as durable as natural stone. Laminate is easier to install and can be installed by a novice or someone who enjoys their own home renovation projects. Available in a wide variety of colors, patterns, and textures, laminate countertops will match any style. Plus, they are low maintenance and easy to clean, as well as highly stain resistant. However, heat and knives can cause damage to the surface.
No matter if you want granite, marble, quartz composite, laminate, or another material, The Floor Store has the perfect countertops for you from some of the most trusted brands. We have several options available for you to see in each of our nine convenient locations in the Bay Area. Contact us or visit us today to begin your kitchen counter upgrade in time for the upcoming holiday season!