Creating a Cozy Home with Warm Colors, Natural Textures
The design word for the rest of 2022 is cozy.
As people return to working in offices and children return to learning in classrooms, homes are being taken back from their pandemic use. Kitchen tables are being used for meals again instead of makeshift workspaces, and living rooms have become a place we gather with our extended families and friends again.
The shift, following two years of dealing with the pandemic, has influenced home design. People are beginning to seek out elements to create a cozy space again, where they can relax and feel refreshed. The sleek whites and grays that we've come to associate with contemporary style are being replaced with warm, rich hues that evoke a sense of warmth. Natural materials and textures are rising in popularity again. Design is being influenced more by the way a room makes you feel than aesthetics.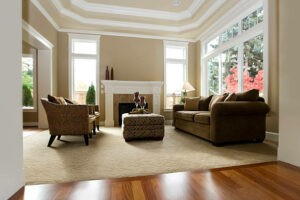 If you find yourself ready to make a change in your home to make it a more relaxing space, our experts at The Floor Store can help you choose the perfect flooring, wall tiles, and countertops to achieve the look you're after. We are the Bay Area's most trusted source for all your flooring needs, including carpet, hardwood, luxury vinyl, laminate, and tile, as well as countertops. You will love working with us to design a cozy space you crave.
Create a cozy space with color
Warm neutrals – such as browns, creams, and nudes – are replacing the cool neutrals – such as whites and grays – that have been popular the last few years. While the whites and grays created an open, light space, the warm neutrals create a warmer sense of coziness. Styles are moving from modern, contemporary looks to more traditional designs featuring wood tones, rich earth tones, and metallic shades, including taupe, rust, deep ruby reds, and rich golden hues. Shades of green, especially those that mimic greens found in nature, are also still trending.
When it comes to choosing new flooring for this look, you'll want tans, caramel undertones, warm creams and off-whites, as well as gentle, brown-colored neutrals. These colors are versatile and provide you with a blank canvas so that you can build your dream room with ease. No matter the type of flooring you choose, you can achieve this look and find shades that will work for you and this trendy cozy interior design. The colors you choose for your flooring will help add to a room where you can kick your shoes off and truly relax.
When you choose countertop or wall tile, such as for your shower or backsplash, you'll want to choose a color or design that complements the one you've chosen for your floor or other elements in the room. Sticking to warm neutrals for your flooring opens up the possibility to choose an earth tone for your tile or countertops to add a pop of color or style. You can also stick to an all neutral color pallet easily with this style.
Create a cozy space with texture
Texture is the other design element of a room that can have a big impact on the overall feel. When it comes to textures that create the relaxed ambience you're after, let the outdoors and nature inspire you. Natural finishes and natural materials are in style currently and enhance the feel of the warm hues. Look for pieces for your home that incorporate woven fabrics, wood, metal, and leather. Houseplants will also draw on those shades of green and floral patterns in your décor to create a refreshing space.
When you choose flooring, opt for carpet that reflects these natural materials and colors. But for this particular trend, you cannot go wrong with hardwood or flooring that mimics natural hardwood, such as luxury vinyl plank or laminate. Choose a hardwood such as a rich walnut or oak that will combine both the warm colors and textures that create a cozy room. Similarly, you can choose a natural stone tile flooring or a luxury vinyl tile or laminate that mimics those same hues and textures. No matter the flooring type that suits your lifestyle and budget, there is a large variety that will fit this look.
When you choose countertops or a wall tile, you'll want to stick to natural elements. You may choose a beautiful marble or a granite that adds beauty and function to your room.
Because this trend hinges on comfort, it is here to stay for a long time. Plus, you cannot go wrong using neutrals to refresh your home. Neutrals and natural textures both give you versatile blank canvas. Trust us at The Floor Store to help you create the perfect cozy space for you and your family.