A Guide to Transitional Design: Blending Modern and Traditional Styles
No matter the current trends, your home should be an expression of you, your style, and your lifestyle.
You want a space that is comforting and inviting, a place where you can relax and spend time with your family and friends. Some people prefer a more modern style, with open spaces and clean lines, light colors, and contemporary furniture, while others prefer traditional designs with lots of wood, darker colors, and a rich warmth.
But many people find they like a blend of all these elements. Transitional style does just that.
What is Transitional Design?
In short, transitional style blends contemporary design elements with traditional.
It features the timelessness of wood and a neutral color pallet to tie design elements together seamlessly. Transitional rooms may feature oversized furniture, light drapes to let the sunshine in, and minimal, but intentionally placed décor. You may opt for art that serves as a focal piece, instead of a gallery wall.
Any way you decide to express a transitional style in your home, your flooring will serve as the background element bringing it all together. So, you'll need to consider your other design elements and color scheme when choosing your flooring.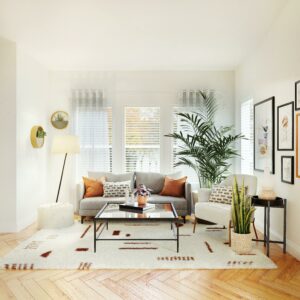 Flooring for Transitional Design
When it comes to a transitional design, you will most likely choose hardwood, laminate flooring, or luxury vinyl plank flooring to bring in the natural wood elements and neutral colors. But you can also choose a neutral carpet or tile to achieve the look. No matter which flooring product you decide on, you'll want to finish the look with an area rug in the living room, dining room, or bedrooms.
We, at The Floor Store, can help you find the perfect flooring for any room to help you achieve a transitional design. We can also help you with your countertops in your kitchen or bathroom, your backsplash, or your shower tile, all important elements in a transitional design.
Focus on Neutral Colors
Transitional design typically incorporates neutral colors. This makes the space versatile and allows you to blend different styles and textures easier. Sticking to a neutral color is especially important when you are choosing your flooring for a transitional style. To achieve the look, you will most likely look at browns, grays, or creams, no matter if you want hardwood, laminate flooring, luxury vinyl plank flooring, or carpet or tile. You may opt for a white oak or a hickory floor. In a kitchen, you may choose white or cream tile for your flooring or backsplash to contrast with contemporary appliances. A lighter shade will help a space feel open, like you see in more modern designs, but will also add a nice contrast to more traditional furniture, such as an oversized, comfortable couch, or a formal dining room table.
Focusing on neutral colors doesn't mean you cannot add any color. Choose an accent color for your area rug, your throw pillows, your artwork, or other décor to add a bit of personal flare.
Focus on Natural Materials
Natural materials never go out of style. They are timeless and elegant and bring in varying textures. Natural materials, such as wood, stone, marble, or wool, are all commonly used in transitional style. A wire-brush texture hardwood – or laminate or luxury vinyl plank that mimics the look – would contrast well with a plush armchair and an elegant shag rug in your living room. The sleekness of a marble countertop will pair nicely with natural wood cabinetry in your kitchen. Pair a minimal short-pile carpet with a dark hickory bedroom suit and plush comforter and top it all off with a super soft area rug in your bedroom. Natural materials bring a variety of textures into your living space without a lot of effort. You also won't need a lot of décor or art because the natural materials give you visual interest. Add a couple of statement pieces to your walls but keep them simple.
Transitional style is ideal for many homes, especially families who want comfort, function, and a well-designed space. With transitional style, you can have a beautiful space that is also perfect for lounging. The mix of modern with traditional elements blend perfectly to create a space that you'll want to come home to and that never goes out of style. And your flooring is the key background element that helps you achieve this look.
Depend on us at The Floor Store, the Bay Area's most trusted source for flooring and countertops. We look forward to working with you. Contact us today to begin your next home project!